Description
Capture sediments from your water with the Sediment Filter Cartridge STD 10″ x 2.5″ with 0.5 Micron pore size.
Polypropylene filter for removal of sand, silt, dirt and rust particles. For water use only.
0.5 Micron Filtration
STD. Polyspun 10″ x 2.5″
100% Polypropylene material for wide chemical compact
True multi-layered depth filtration
Three layers structure cartridge, high contaminant holding capacity, long filter service life.
Micro-Denier-melt-blown filtration fiber, high removal ratings.
Formed by thermal bond without use of any fibers or adhesives.
Certified by NSF 42 and FDA CFR Title 21.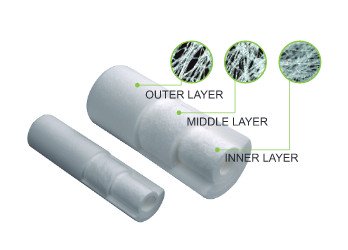 '