Description
Portable Foldable Camping Water Filter Bag for Outdoor Hiking. The Foldable Water Filter Bag features the Doulton Super Sterasyl Ceramic Filter Cartridge, which is made in UK by Doulton. This ceramic filter cartridge is highly effective at reducing harmful bacteria and cysts, including E-Coli, Cholera, Typhoid, Shigella, Klebsiella, Cryptosporidium and Giardia, has 0.9 micron pore size and is capable of filtering 2000 litres for 1 year filter life.
Portable Foldable Camping Water Filter Bag for Outdoor Hiking
Eating contaminated food and drinking contaminated water can increase the risk of developing certain infectious diseases caused by germs such as Cryptosporidium, Giardia, Shigella, and norovirus, among others.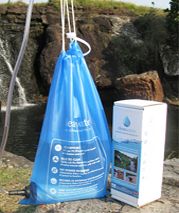 The cleanwater bag kit is light-weight, compact for transportation and is easy to assemble at the point of use, providing clean water from virtually any freshwater source within minutes. The effective life of the ceramic filter, in continual use, will normally be more than 12 months depending on the turbidity of the source water, before requiring replacement.
Purified water is delivered to the point of use at a rate of up to 5 litres per hour for the bag kit and 10 litres per hour for the static kit.
Globally, contaminated water is a serious problem that can cause severe pain, disability and even death. Common global water-related diseases caused by parasites include Guinea worm, schistosomiasis, amebiasis, cryptosporidiosis (Crypto), and giardiasis. People become infected with these diseases when they swallow or have contact with water that has been contaminated by certain parasites. For example, individuals drinking water contaminated with fecal matter containing the ameba Entamoeba histolytica can get amebic dysentery (amebiasis). An individual can get Guinea worm disease when they drink water that contains the parasite Dracunculus medinensis. If an infected person with an open Guinea worm wound enters a pond or well used for drinking water, they can spread the parasite into the water and continue the cycle of contamination and infection. Schistosomiasis can be spread when people swim in or have contact with freshwater lakes that are contaminated with Schistosoma parasites.
Americans traveling abroad should take the necessary precautions to protect themselves from waterborne illness if they plan on being in countries with unsafe drinking water or recreational water. Individuals spending time in the wilderness should also follow the appropriate steps to ensure the safety of their water.
Parasites are also a cause of waterborne disease in the United States. Both recreational water (water used for swimming and other activities) and drinking water can become contaminated with parasites and cause illness. Recreational water illnesses (RWIs) are diseases that are spread by swallowing, breathing, or having contact with contaminated water from swimming pools, hot tubs, lakes, rivers, or the ocean.
The most commonly reported RWI is diarrhea caused by parasites, such as Cryptosporidium and Giardia intestinalis. Giardia intestinalis is also a common parasite found in drinking water. Both Cryptosporidium and Giardia intestinalis are found in the fecal matter of an infected person or animal. These parasites can be spread when someone swallows water that has been contaminated with fecal matter from an infected person or animal. Individuals with compromised immune systems who come into contact with these parasites can also be at greater risk for serious illness.